The end of September came with some difficult changes for a few people that I love dearly. It's still painful to talk about, so I won't go into to much detail here. Besides, it's not my story to tell. But things have been different since that day. This deployment has been harder than any we've ever been through. I feel selfish for feeling that way when only weeks from now he will be home. But I can't help myself from still missing him soooo much. John is my life. My honest to God soul-mate. That might sound cheesy...but when I think about him...I feel like I am in highschool all over again. Do you remember that little fluttering feeling you got when a boy you were crushing on talked to you. I still get that with him. Especially when we have our first kiss after a long seperation. I'm not saying we have a perfect marriage. There has to be ups and downs for there to be a balance. So in my eyes...right now...everything seems pretty darn close to perfect "when he's home".
Anyways... back to the changes. Life has changed. School has changed. Work has changed. I was doing a full Fall load at AAU and just couldn't handle it with everything that was going on. So I dropped my worst class (a history class...ugh...I mentioned a few blogs down that I hated history didn't I??) That helped alot. In October, Aidan was having alot of difficulties with his public school. I was getting emails from his teacher saying that he wasn't doing his work. He got in-school suspension for fighting with a bully. He came home every day telling me he was being picked on by the kids at the bus stop. I was fed up! I've toyed with the idea of homeschooling in the past, but this just seemed to be the most obvious answer now. I pulled him out of public school, and we began our homeschooling journey on November 1st!!! What a challenge it is. But at times it is soo rewarding. I am enjoying having him home with me. It does take away time from my schoolwork and from my business. But I think it is worth it. He is doing great! We have a little difficulty with the math, but who likes math!!! He works on the ACE curriculum and completes workbooks. We do go in every 3 weeks to take tests on what he's learned. I love this part because I don't have to be the one testing him. I like having to be accountable to someone higher. And they handle all of the paperwork for us too. I think he enjoys it too. Especially since he doesn't have to get up early in the morning to catch the bus!!!! Ha!!!
Also in November, I made some changes to my appearance. I was introduced to an amazing tattoo artist CJ. I watched her work on a few of my friends and decided she was the one I wanted to do my big project. I have wanted to do this for years, but never quite met the right artist. I just clicked with CJ. Her work is wonderful, her personality is amazing. And most of all she made me comfortable. Sooooo..... the big project...
This outline took 9 HOURS!!!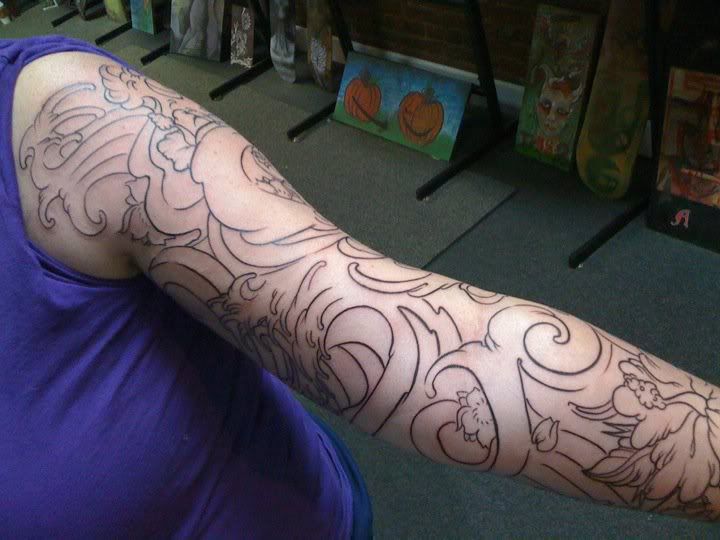 Here was the first round of color...3 hours.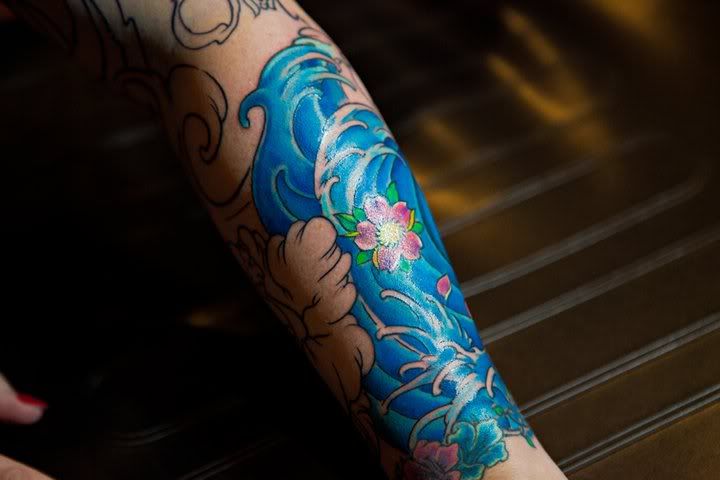 And I decided to use this concept for my final project in my color photography class. I made an A!!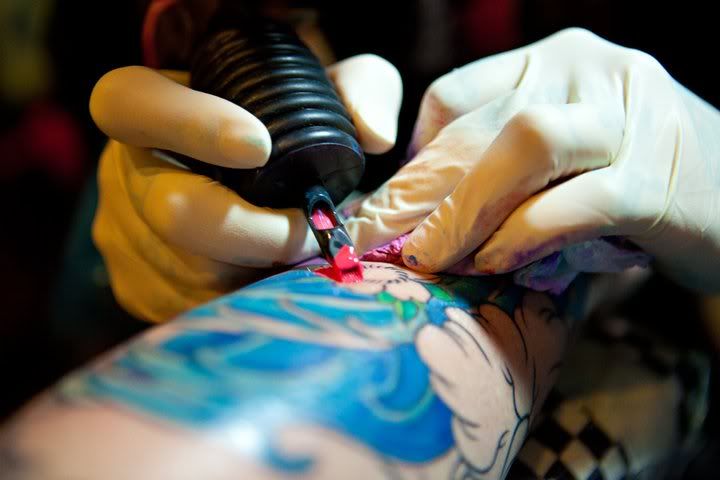 I actually got A's in all 3 of my classes again. I don't know what I'd do with a B! Hahaha! That's probably why I dropped that class...I knew I wouldn't get an A! The next semster begins on Jan 30th. I decided to only take 2 courses this time since we will be busy with John coming home and homeschooling. But for the most part...I think our changes have made us stronger Aidan and I.