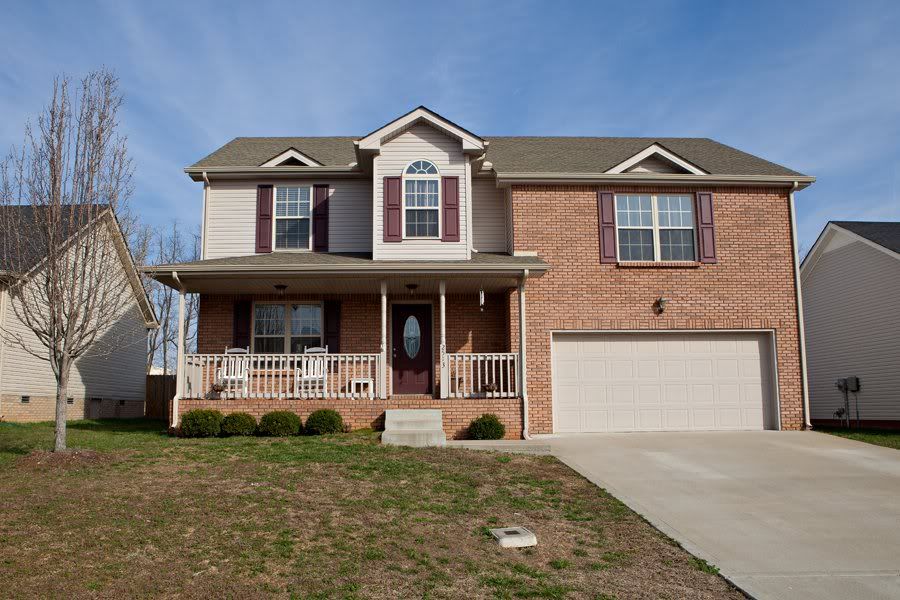 Alrighty... so now I'm going to start documenting our moving process. Yay! Loads of fun. But this is for all of you Army wives who want to know what to expect with a move like this.
Some people may not have this issue because they live on post, or are renting out a house/apartment off post. But for those of you happy homeowners... let's just say... put your house on the market early! Not that your house won't sell in the first week because I've watched several of my friends unload their homes in the first showing. But in our price range, and given the short length of time we've lived in this place, it has become quite stressful. We are living in a time where a buyer has all advantage right now. John and I bought our house right before the market in this area dipped. We didn't plan for it to happen, and how could we know? But I love being a homeowner and I will never regret our decision to purchase this house. I started my business in it. It will leave me with many happy memories. It was perfect for me. John on the other hand... hates this house. We bought it brand new... so we have all the regular problems of a new house (mostly settling). Cracks from settling aren't really a big deal. It happens to all new homes. Nothing a little spackle and paint can't fix. But it annoys John. I think mostly because he hasn't lived here as long as Aidan and I have. He really has only lived in it for maybe 2 years because of the 2 deployments he did while stationed here. To me this is a home. Aidan and I have our own memories that we can look back on. The time he broke his tooth riding his four wheeler in the driveway (eeek...maybe not a fun memory... but a memory). The striped lawn I made last year when trying to fertilize it...hahaha! The friends we made... the backyard bbq's... the pool parties... sitting on the front porch in my rockers. All memories in THIS house. I am actually sad to pack it up :(
We listed the house for sale a few months ago and had alot of great showings. Almost even had an offer! But the showings have stopped. Maybe the buyers are finding new built homes they like better... maybe we have it priced to high... maybe it's just not our time. So we are now putting it on the rental market. I am not worried about renting. We do also have a rental in Fort Hood, TX which seems to be working out fine. And we aren't planning on purchasing another home for a while. So renting it will help us build a little equity and we can re-list it for sale in a couple of years when the market picks back up (if the market picks back up). If anyone is in this position and decides to rent your home... I suggest purchasing a Home Warranty. It will cover your butt if anything ever breaks. These home warranty's usually cost about $400 per year and you can add things to it. But when something is malfunctioning, the warranty company will send out a serviceman to fix it or in worst case replace it. But all you pay is the deductible (roughly $75) if the item is covered under the warranty. In our first home in NC our AC unit was acting up. Would have cost us over $1000 to replace, but we only paid about $200 because we had the warranty. So it's a good investment in my opinion.
There is alot of work that goes into getting a home ready for sale or rent. You can choose to do as much or as little as you want. We felt the most important thing was paint. Repairing those settling cracks and painting over all the sticky little handprints left by Aidan. Noone wants to walk into a home and see greasy marks all over the walls. So that's what we put our focus on. Almost every room has been repainted minus my bonus room where I have my studio set up. And the master bedroom. We also repainted the hand railing out front. We are also trying to make the yard look more appealing. Our grass took a heavy blow this winter and is struggling to come back. We are still playing with the idea of hiring a lawn treatment service. There were also a few holes in doors that John repaired. Good as new! We're almost ready! We dropped off our rental contract yesterday, so hopefully we get some tenants in here soon! Wish us luck!!!!